In the emerging world of technology and innovation, the way buildings are being planned, constructed, and managed is changing. It's fascinating to see how much smart building systems can reduce power consumption, increase energy savings and create more sustainable buildings.
Reporting on the latest developments in the construction sector for over 24 years, Teknisk Ukeblad (TU) has covered how ClevAir, a smart building automation system, transformed buildings of large Swedish furniture retailer into smart ones.
Inspired by their article, we created the following post to explain the technology of a smart building a bit further, and to describe how a simple solution can transform the ordinary building into the smart one.
Also read: All you need to know to make an old building sustainable
Overview
The Changing Building Industry
The technology used to be a sector within a company. In today's fast-evolving environment, successful organizations understand that technology must be a part of the operation's bedrock, informing, shaping and monitoring every decision.
The building industry has undergone an unprecedented transformation injecting technology to the forefront in planning, development, and investment, and the credit goes to the Internet of Things (IoT).
Also read: What is Proptech, and what can it do for you?
The future belongs to construction with smart building technology: sensor networks that can control temperature, monitor power, and water consumption, track sustainability performance in real-time, and much more.
Technology has also changed the way buildings are managed. The latest building management system (BMS) protects investment and creates an optimal first impression.
In the simplest terms, smart BMS provides deep insights into the real-time performance of assets, predicts potential issues, employs a predictive approach, and delivers significant data to act on. New design tools, technical solutions, and evolving ecosystems have driven the transition to Smart Buildings.
ClevAir is making a significant impact in this space from smart building automation system management and predictive maintenance of heating, ventilation, and air conditioning, (HVAC) and other building aspects to ensure overall security and safety.
Learn more about building automation in our guide
The Transition to Smart Buildings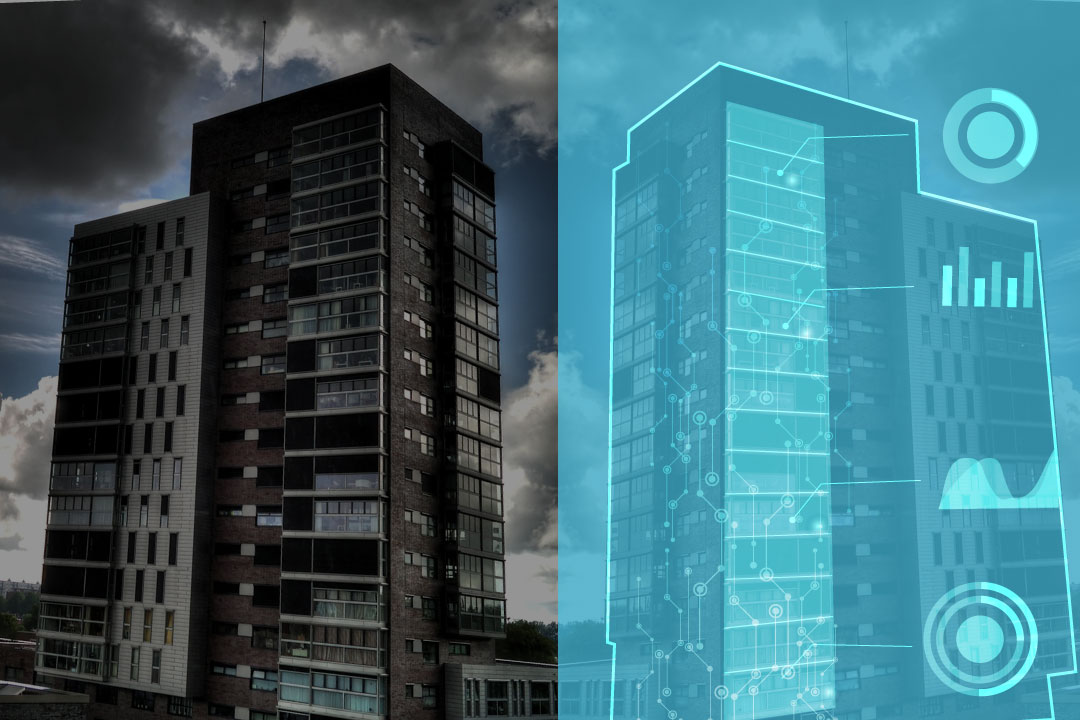 Many buildings have a certain level of in-built intelligence: it could be lighting, HVAC, security, or fire safety. But today, it is possible to achieve much more from the building data, and ultimately, shape future strategies to make better decisions.
No matter the type of building—commercial, industrial, residential, education, and healthcare, property managers can benefit from new smart technologies, IoT, mobile devices, AI, and big data. This kind of technology should be a must for most sustainable and modern buildings.
Simplifying smart building solutions has enabled to track building systems, maximize efficiency, reducing downtime, and maintain a comfortable, productive environment, regardless of technical experience. These buildings also enhance personal safety, comfort, and security. Because predictive approach anticipates problems even before they occur, the structures are less susceptible to shutdowns during peak hours.
Also read: How and Why Retrofitting Old Buildings is Both Necessary and Profitable
Things That Make Buildings Smarter
1. Energy Efficiency
By accessing actionable data from smart sensors and meters, building management systems provide efficiency through improvements in lighting, HVAC, fire, security systems.
2. Operational Efficiency
The operation covers several aspects of building management, maintenance, and security. Through the automation of building systems and increased control, operational efficiency can be accomplished.
3. Occupant Comfort
Smart buildings can ensure occupant satisfaction by tying lighting and heating systems to behavior patterns, thereby fostering savings.
Why Energy-Efficient Smart Buildings?
By collecting data and making continuous amendments, smart buildings address the goal of greater energy and operational efficiency.
In the majority of cases, the different aspects of a building such as HVAC, fire safety, lighting, and security surveillance, work separately. But in a smart building, these systems feed into a central, cloud-based network and work in sync with each other via the Internet of Things (IoT) technology.
Smart buildings can talk to one another. This benefit has compensated for supply fluctuations and reduced overall energy demand. In simple words, a smart building can limit its energy consumption on days when the city power grid sends an alert that it's near capacity.
Smart buildings are much more worth than non-connected buildings. Not only do they save money, but they also run better. This actively promotes sustainability and efficiency and dramatically reduces consumption and utility costs. These benefits also attract potential tenants, resulting in lower vacancy rates.
Smart buildings generate a lot of data, which in itself is an asset. The data reports how the building has performed so far and where the improvements have to be made. This data serves a foundation for stronger building performance and efficiency. It can also help improve productivity and occupant experience through location-based services.
How ClevAir transformed buildings of a large Swedish furniture retailer
ClevAir have demonstrated a technology-based connected building solution, designed to enable momentous cost savings and efficiency gains from automation. Whether it is energy conservation, temperature controls, or communication modes, ClevAir utilizes data and information from assets to predict issues faster and intelligently.
ClevAir in collaboration with an existing customer did a pilot testing in one of its departmental stores in Norway.
Challenge:
Reduce energy consumption, increase control and monitor HVAC, and improve occupant comfort.
Solution:
ClevAir provides automatic provisioning of sensor networks, enabling automatic discovery of potential issues, and giving recommendations based on algorithmic controls.
The building automation system conducts a 'health check' of the entire store, and reports errors, if any, in settings, internal controllers, or ventilation system. ClevAir can also advise on the installation of new equipment, thereby reducing expensive maintenance and replacement costs in the long run.
Result:
Comprehensive data on the health and performance of the store is aggregated and analyzed on a cloud-based network, and is then made available to store administrators or maintenance department via mobile apps or software installed on their systems.
This data helps monitor the store's HVAC, proactively recommend real-time adjustments and preventative maintenance. The store managed a reduction of 36% in heating usage with an outdoor temperature of 2,4 degrees. They also reduced overall power consumption with 25% in the last six months.
The store has saved approx. 250,000 kWh of energy in 6 months. These results surely astonished the customer's sustainability department, which further led to the survey of all departmental stores.
Building Smart with Integrated Technology
ClevAir focuses on a smart building approach. True smart buildings are controlled by intelligent building management systems capable of making predictive and automated decisions thereby enhancing the inhabitants' experiences.
ClevAir work closely with clients to optimize the building performance which helps in decreasing energy use, reducing maintenance costs, increasing asset value, and improving human wellbeing and productivity. By providing the advanced expertise and leading-edge building intelligence tools, ClevAir empowers the clients in refining and achieving their building performance goals that include residential, commercial, industrial, and institutional properties.
As they say: what gets measured can eventually be fixed and improved upon.
Related articles: